Rx MedSync©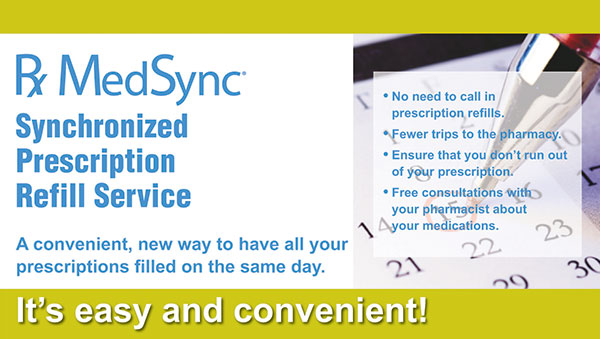 A convenient, new way to have all your prescriptions filled on the same day.
No need to call in prescription refills.
Fewer trips to the pharmacy.
Ensure that you don't run out of your prescription.
Free consultations with your pharmacist about your medications.
It's easy. It's convenient. It's free! Sign up today!
Synchronized Prescription Refill Service
Thrifty White offers our Synchronized Prescription refill service in support of the Script Your Future campaign. We are committed to providing a high level of patient care to improve health outcomes, and our Synchronized Prescription Refill Service can help.
Here's how it works:
Your Appointment Day
A week prior to your prescriptions being filled, you will receive a call to confirm which prescriptions you want to fill.
Medication Review
Your pharmacist will review your prescription list, monitor changes after doctor or hospital visits, and check for possible drug interactions. Best of all, you will have time to talk with your pharmacist and ask any questions you may have about your medications.
Free Consultations
You receive the convenience of a single trip to the pharmacy, and freedom from worries about forgetting to call for your refills or running out of your medications.
Synchronize Your Prescriptions
Save time and trouble by having all your prescriptions refilled on the same day. Everything is handled for you, and you only make one trip to the pharmacy to pick up all of your prescriptions.
Sign up today and receive:
15% General Merchandise Discount Coupon